Scrambled Ape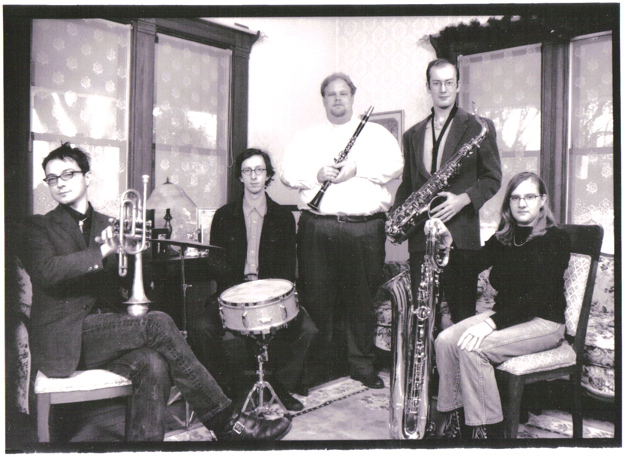 photograph by Rob Powell
Scrambled Ape plays Ottoman Cartoon Jazz - music by the late composer Raymond Scott, modern jazz standards, New Orleans brass band music, Eastern European music, early 20th Century hokum shouters, German cabaret music, and original compositions.
Scrambled Ape is Michael Roderick on cornet and euphonium, Kee Zublin on tenor sax, Kelly Leguizamon on baritone sax, Richard Johnson on clarinet and alto sax, Bud Chase on Tuba, and James West on drums. All are accomplished musicians who embrace the weirdness of Ottoman Cartoon Jazz and its power to transport, amuse, and edify without the baggage and pretensions of three dimensional occidental jazz.
Scrambled Ape has shared bills with Sex Mob, The Dirty Dozen Brass Band, the Rebirth Brass Band, and the Living Daylights, The Billy Tipton Memorial Sax Quartet, and the Eugene Emeralds baseball team. They recently performed at the 2012 Honk Fest West in Seattle with Bucharest Drinking Team, Church, Environmental Encroachment, Hubbub Club, LoveBomb Go-Go, One Love, Orkestar Zirkonium, The Orphan Band, Samba Ja, The Seattle Sounders FC Soundwave Band, Ten Man Brass Band, Titanium Sporkestra, Tubaluba, Artesian Rumble, and a whole bunch of other incredible brass bands. Scrambled Ape also performs original scores for Buster Keaton films and select Betty Boop cartoons.
Listen to music samples or Buy the Album... (click album cover to go to CD baby)
From The Eugene Weekly - Listening to Scrambled Ape is like taking an exotic world tour. With Laurel and Hardy. From dusty Turkish bathhouses filled with bellydancers to chariot races in ancient Rome. From the gin-soaked streets of New Orleans to the Cirque de Soleil, Scrambled Ape is, as Snoop Dog says, the shiznit! Thank the various gods, they reside here in Eugene. Scrambled Ape The thing I like about these folks is they are serious musicians who don't take their music too seriously. They all look like they might still be in their high school bands (and maybe they are) but they still find time to play (and play, and play). The band consists of five members who also take part in other local outfits, including Mood Area 52, Wheel of Meat, The Varicoasters, and the Visible Men. All quality groups. All quality band names. This is heady music, to be sure. No vocals, brass instruments you've never heard of, and a distinct music school nerd sound attests to that. But it's also beyond danceable. While the music dips and dives in a myriad of directions, there is a certain shuffling feel going on. Can't be stopped. The drums provide the brushy backbone and the brass supplies the gas. They give you "the power, joy, and levity of an all-brass band with speed, sophistication, humor and humility." So there. Seemingly always into new and interesting projects, Scrambled Ape is working on an original score for the 1926 Buster Keaton classic The General. The band has shared bills with The Dirty Dozen Brass Band, Sex Mob, and the Rebirth Brass Band, among others. They are poised, ready to strike, to make it big. Or at least to go see what Europe has to offer. Sometimes I wonder about Eugene. It's too boring, I say, and all the creativity, all the good music, is in Portland. Projects like Scrambled Ape and their various incarnations reaffirm for me that Eugene, while sometimes as soul-crushingly dull as public school, actually has this extremely creative ripple running through its veins. Scrambled Ape is the real thing. Check 'em out.
For additional information about Scrambled Ape:
Scrambled Ape
c/o Michael Roderick
840 west 3rd Ave.
Eugene, OR 97402
(541) 343-1428
Send an email
---